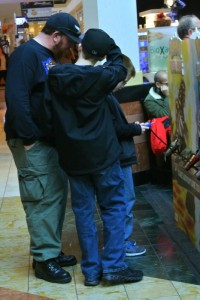 No one wants their son to struggle with pornography. But after presenting many seminars I have heard story after story of boys who are genuinely struggling. One seventh grade boy told a group of friends he knows of no way to stop. He wants to, but he can't. Others tell me that at age 11 or 12 they began a 10 or 20 year struggle with a porn addiction. For some, it is a lifetime struggle.
So while this is a very real struggle, too many parents simply hope their sons will avoid the pornography temptations. Unfortunately, the passive approach is not getting the job done. But even worse, when issues of pornography are exposed, some parents convey devastating attitudes toward their sons. These attitudes nearly always make matters worse.
Here are 6 attitudes I have seen that will help ensure your son (or even a daughter) struggles with pornography:
Wrong Attitude #1. Pretend only a few twisted men find pornography to be a temptation.
If you catch your son with pornography make sure you let him know he is disgusting for being one of the few that falls into this. Obviously anyone who is "normal" would never have such temptations.
What should you do instead: Tell your son that while sin is not acceptable, temptation is common and in this case even biological.
How isolating for a boy to think that his natural sexual drive, the same drive all other healthy boys are dealing with, is actually "odd" and it shows he is sick and twisted. Let him know we were created with a sexual drive. God desires for us to fulfill that sexual drive at the right time in the right way through marriage. We are also born with a sin nature. That sin nature draws us away from what God intended. Be honest with your son. As he matures testosterone increases and it will create a "drive" for sex. (If you don't believe this look up online and you can find one of the ways they help women who lack sex drive is to prescribe testosterone.) Let your son know he can be honest with you about his temptations. Explain to him he should not tell you details about "what," but if he lets you know about "when" and on which device you can help him. (For more information read Every Man's Battle – books by: Author Stephen Arterburn
.)
Wrong Attitude #2. Tell your son all he needs to do is to "decide" to stop and if he means it he will.
Obviously, anyone who has trouble looking at that stuff is choosing to do so. Just stop being a fool and stop choosing to look. That should fix it.
What you should do instead: Regularly seek and ask God for help.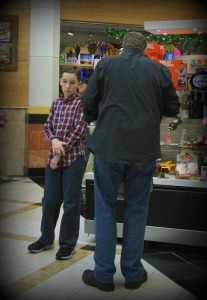 Scripture indicates that this is a weakness for young men. Joseph fled from Potiphar's wife. Proverbs tells the young man don't even walk down the street with the harlot. We are told to "flee youthful lusts." Obviously this is a point of weakness for men. Yet, when we are weak, God is strong. We need to learn to be dependent on God for His strength in times of need.
Wrong Attitude #3. If your son has continued battles, make sure he knows you are ashamed of him and he is a disgrace.
Simply act as if you and your spouse never had any battles when you were young. Or you can tell him your battles were different because you were not a Christian. If you were a Christian everything would have been just fine.
What you should do instead: Expect a battle and assure him you want to help, even if it takes time.
Remember, temptations don't magically go away. Nearly all boys struggle with this temptation so be aware and keep your guard up. If your son has struggled for a while, it is unlikely he will gain complete victory quickly. Continue to guard him and help him guard himself. Let your son know you are with him for the long haul, both with this temptation and for all of life's temptations.
Wrong Attitude #4. Tell your son it is annoying that you have to spend energy holding him accountable.
Accountability takes time and effort and you should not have to be bothered. Since this is his issue you should not have to alter your life.
What you should do instead: Exemplify love to your son by yielding your rights and expectations by giving him the time and tools it takes to hold him accountable.
Accountability is one of the keys to success. You can't stop all pictures or movie scenes from going before his eyes. But you can work with him to prevent many of them and work out how to respond when those images do go before him. Decide together what is acceptable and what is not. If certain television shows or movies trigger sexual excitement in your son (and many of them are designed to do exactly that) then work with him to avoid those temptations.
Wrong Attitude #5. After the first week or so, fulfill your accountability program with a 5 second conversation on the way to church.
"You did not look at anything this week did you? Because if you did I am really going to be mad."
What you should do instead: Value your accountability time with your son as a time when you can bond and grow together as men.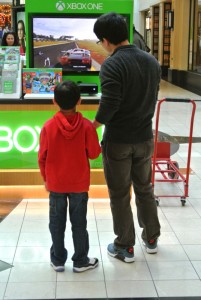 Spend time with your son first. Do something you both enjoy. Go out for a hamburger, for a walk or shoot some hoops. Then when you are ready to discuss the week, let your son know you have been praying for him and want him to be honest. If he tells you he succumbed, ask him if he had any victories that week. Then ask him how you can specifically pray for him and be willing to set up roadblocks to help him avoid the temptation. Does he need filters on his phone or computer? Does he need to stay away from the neighbor's for a while? Should you have monitoring software that will report to you every YouTube video he watches on his phone and computer? Should you get some cable stations removed? Work it out together. Pray together. Seek God together. Always give him a hug and let him know you love him.
Wrong Attitude #6. Let your son know that because it is embarrassing and bad for the family name, never under any circumstances will you get outside help.
There should not be any need for books, talks with pastors or counselors. All of that will be humiliating and a waste of money.
What you should do instead: Recognize when this battle is so big you will need others to help you.
For some, this battle turns into a serious addiction. I realize for many boys and young men this battle will be two steps forward, one back. But if you have worked with your son and find he is consumed by and constantly figuring out how to view pornography, you should seek professional help. A pastor or someone can guide you to professional Christian counseling.
———-
A closing thought:
You want to set your son up for success and to help teach him how he can avoid temptation in all areas of his life. We often recognize the foundational blocks to help our kids succeed: Love, discipline, spiritual teaching and training, church attendance, etc. But one way many parents of boys forget about is to make sure your son is active in fulfilling his God given desire to be a warrior and defender of others. While working to help him overcome issues, also work to help him fulfill his God given calling. And remember that all boys want to be treated with respect and all girls want to be cherished. So throughout this and any discipleship process, treat your son with respect. While you are at it let him know that he needs to respect others. Pornography is always dishonoring.