This is a Thankfulness Tree.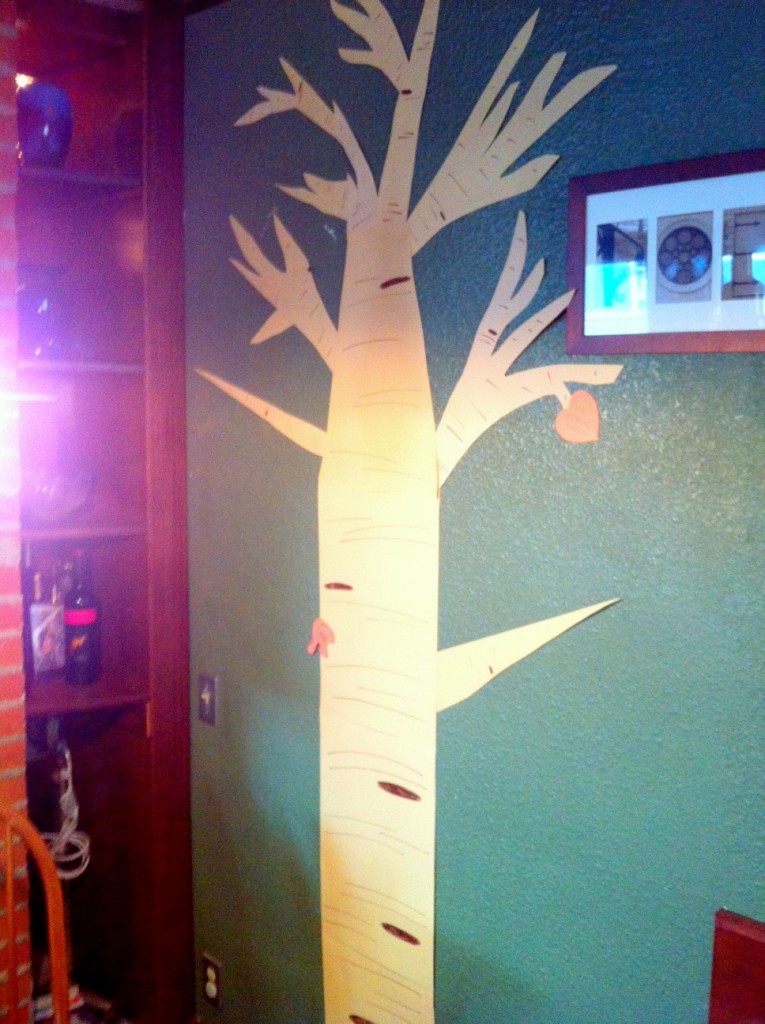 I saw it a few years ago on Pinterest, and I knew I wanted to make one. Fall is a season of "getting" in our family. My son has a September birthday, so of course he gets presents. Then it's on to Halloween and church Harvest Fests when he gets tons of candy. Then Christmas when he gets presents again. Oh, and there's a blip of a day in there where we're supposed to be thankful. I saw this tree as a way to possibly turn it around.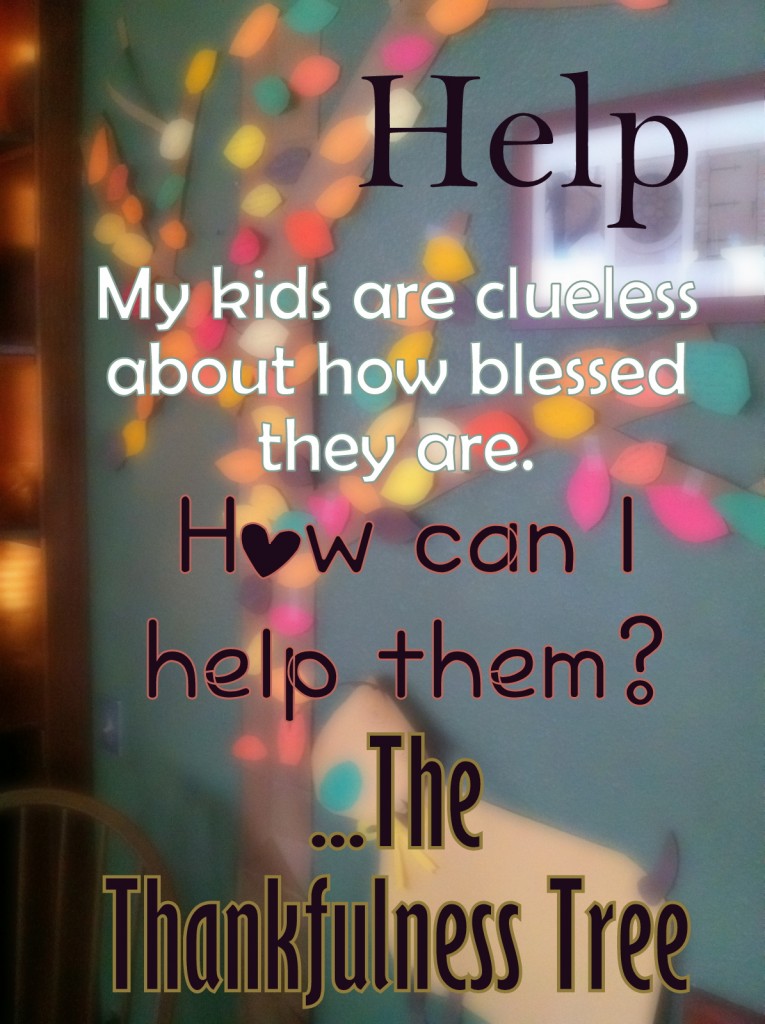 It's an easy project – use large paper or grocery bags and tape them to your wall to create a trunk. It doesn't have to be fancy or even pretty! This year mine kind of looks like a pencil with hands. Don't worry about it. The trunk will soon be covered by construction paper leaves. Each day everyone in the family writes something they're thankful for on a leaf and sticks it on the tree. We try to do it right after dinner every night.
I keep a stock of leaves, pens, and tape right next to the tree, so they're always handy. All those notices that come home from church and school on fall-colored paper are great to recycle into leaves for your tree. My first year I cut out really fancy maple leaves. The next year I realized how much easier it is to do oval-shaped leaves! I usually get about a dozen from a sheet of paper. That's large enough to write on, even for kids with big handwriting. By the way, don't correct your kids' spelling. For me it's more important that Creed be thankful than that he spells "swim lessens" correctly.
It's always a journey. This year, the first leaf Creed put up said "candy." But it didn't take long until leaves saying "Mom" and "Dad" followed. The first couple days he often puts up 5 or 6 leaves. For me, the first few are fast: Jesus, my husband, family, friends, even the "stupid cat" and "dumb dog." But as the month progresses and the easy answers are already posted on the tree, we have to think harder. Finding thirty days' worth of meaningful leaves can take some effort. Some nights our son takes the easy way out: "I'm thankful for water." These become teaching moments. So many people in our world don't have access to clean water, let alone running water. We are spoiled in the US, and we truly should be thankful for water.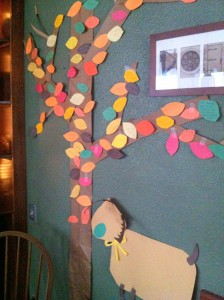 We have our friends and guests write on leaves too. And definitely everyone at the Thanksgiving table. When I posted the first picture of our tree on Facebook this year, a friend of mine texted immediately to ask me to write a leaf for her that says, "We're thankful for the Roemers!" It's fun to see what friends add, to hear what they value. This is a non-judgmental activity too. Just because one night one of us is thankful for God's love and another for chicken soup, doesn't make one person better than the other. Have grace with one another and remember that when you have a cold, there's nothing as comforting as chicken soup!
I usually make our tree on November 1, but this year I couldn't wait. I made it on Oct 25. Partly I want something besides Halloween in my life. Partly because I had time that day. Mostly because we need to re-focus again. In the midst of the busy-ness and bills, it's amazing how many things we really can be thankful for. Especially the brand new dishwasher that we got to buy this week!
So whether you fill in your leaves at breakfast or dinner or random times through the day, focus your thoughts on God, who is the provider of all good things in our lives, and be thankful throughout this entire season.
Hi, my name is Amy Roemer. I live in Colorado where I love to hike and bake, and I'm rediscovering my love of writing. I have worked in communication with Youth With A Mission for 20+ years. I've been married for 12 years and a mom for 8. Best of all, I've followed Jesus through this entire journey called life, and I've learned that he really does work everything into good for us. Every day is an adventure!
Latest posts by Amy Roemer (see all)