I was 11 or 12. I had never had an adult so blatantly insult me before. Not ever. I did not tell my parents what he said until I was an adult. To this day it still bothers me to think about the words spoken to me that day.
My dad was big into baseball. I heard the stories growing up. He was the sandlot league leader in homeruns and often led his team in batting average. We heard the story of one gentleman who would watch my dad's sandlot games and as soon as my dad hit a homerun this gentleman would get up from the stands and say "I have seen what I came to see!" then walk home. Military service ended my father's sandlot career but he kept his two bats and glove and they were a constant reminder to me of his "glory days." My father coached little league for 2 years until his second child arrived. This only added to his legend. My dad's team never lost a game while he was coaching. Their only two losses happened when my dad was away.
So you can imagine the pressure. I was a catcher and an outfielder. At first I loved to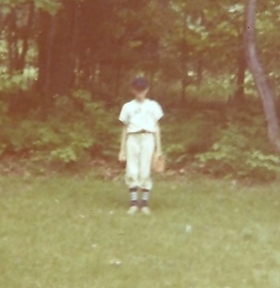 play baseball. I could hit fairly well and was not all bad fielding. But I had no killer spirit. Rather I just enjoyed playing. Being prone to daydream I could frustrate my coaches. All was great until I had to move up to the next league. This was a transition I did not love. First, bases could be stolen, so my job as catcher was made infinitely more complicated. Second, my new coach was on the competitive side. And that is putting it lightly. When he got mad, he never got in your face. He just screamed and cursed while looking out at the field. He did not even use your name. For instance, if you struck out looking, after returning to the bench he would take the Lord's name in vain then rant about how stupid it was for someone not to take a swing at the ball. Yeah, that was not my idea of great fun. To a kid prone to silly mistakes due to my attention span, you could imagine how I could set him off. He was intense. I had never experienced this kind of intensity before. He really wanted to win. I mean he really wanted to win. In fairness, while the behavior was going on it bothered me, but because several of us on the team banded together and decided he was crazy, we mostly did not let it bother us once we left the field. While walking to our cars several of us boys would console any targets of his wrath and all would complain about what a loser he was. (Had this been a year or two earlier we would have cried to our parents, but in late childhood and early adolescence that is a fate worse than death so we consoled each other.)
My second year the team kept winning. This was before league rules protected children from these kinds of coaches. Even as a child I remember some of the pitchers having to stay in games too long. Best I can remember players could pitch every 3rd game with no limit of pitches, so our good pictures had to pitch the whole game, even if they were hurting. But we were winning. In fact, we made it to the playoffs and then to the semi finals.
As I recall (and I can't be sure as the memories of a child fade) I had a family event to attend. We had just gotten a lecture that no one was allowed to miss the additional, mandatory practices. But my parents would not let me go. I remember being very, very upset. I was so nervous, I made myself sick. If I showed up to the game after missing practice I could only assume I would be humiliated in front of the whole team. In desperation I pleaded with my parents and they let me skip the game. My team won but I was not there to find out when the added practices were and the coach did not call.  My parents were unaware so I never told them my team was in the championship game.
A week or so later my dad told me the coach had called and would come by to pick up the uniform the following afternoon before either of my parents would be home. My mom had washed and perfectly folded the uniform so it was ready for me to return to the coach.
He came and that is when it happened. When he arrived I was outside playing. I went in to get the uniform and met him outside. He handed me the championship trophy each child was given and took the uniform.
He then patted me on the shoulder and said something like, "thank you for not coming to the last two games. By staying home you really helped your team to win and you deserve this trophy just as much as those who played. It really helped that you did not come. Thank you!"
I remember the sting. I may have only been a child, but I knew clearly what he was saying. I guess I was shocked at how happy he was and the realization that my playing baseball for his team was a bother to him. He honestly did not want me there and he could not and would not hide his joy that I did not come to those games. I was so hurt. I remember everything within me never wanted anyone to know what he said because that would only increase my hurt and embarrassment. Despite being one of those kids who talked too much and told my parents everything, even what they didn't want to know, the pain and shame made it easy to keep this a secret.*
The next year I threw a fit and to the dismay of my baseball legend dad I refused to play baseball. I guess my parents thought the start of puberty was causing me to be unusually assertive. I never told them the real reason until I was an adult. (Though no doubt puberty added to the mix.)
Many parents want desperately to provide their children with opportunities. As a parent, I certainly did! But somewhere in the mix of "opportunities" is a serious issue. We have come to believe that organized sports will assuredly provide a fun and healthy outlet to develop our child physically, that it helps him gain confidence, teaches him within the framework of a team to work together and cooperate with others, learn how to win and lose gracefully, and hopefully develop some skills that along the way will be useful and possibly even open opportunities that our child would not otherwise have.
But, is that what our children are getting? I am certain my last two years of little league did not give me anything close to those expectations.
The American Academy of Child and Adolescent Psychiatry says "The highly stressful, competitive, "win at all costs" attitude prevalent at colleges and with professional athletes affects the world of children's sports and athletics; creating an unhealthy environment. " (quoted from here) They suggest parents be very involved with both the development of your own child's attitudes, and also watch for issues with your child's coach.
I agree.
You may want to seriously consider the temptation to force your child into organized sports. Some are great, but others can add to the stress of childhood and even emotionally injure your child. Don't get sucked into the "I must provide all the opportunities I can" nonsense going around today. The opportunity you think you are providing my end up being a disaster.
If you do have your child in organized sports, be vigilant and be reasonable. Keep an eye on your child's and the coaches attitudes. And I might add, the other parents as well. Our neighbor said their daughter took their 8 year old grandson out of a sports league due to the overly intense nature of the coaches and the other parents.
If you take sports less seriously or even decide to wait a few years for organized sports, don't worry that you are harming your child. Remember, with or without sports stay involved and provide loving and healthy outlets for activity. With your child in mind, you decide if that healthy activity is in the form of organized sports.
And for the record, I recovered from the experience by mostly recognizing that the coach was not important to me and I chose not dwell on the matter. And as I roared into adolescence I used that stupid trophy to torment my brother, who was great at baseball, but had to wait a long time to get a trophy on his shelf! (For this stupid behavior I apologize to my brother!)
May God's grace and peace be with you,
Mark
*As many of you know I have spoken to many groups of children and have written on the importance that children not keep secrets from their parents, only surprises or "good" secrets – those which will eventually be known and bring joy and happiness at the time of their revelation. However, remembering the embarrassment I felt as an 11 or 12 year old boy gives me sympathy knowing how much deeper the despair would be if this were an incident involving physical or sexual abuse. Parents need to foster relationships and environments that are loving and safe and let children know that a parent's love is with them no matter what! And be understanding if your child took some time to reveal something to you. If your children let you know that they feel uncomfortable around someone, please respect that and help make sure they are never alone with that person. It may be a childish thing having nothing to do with abuse, but it may be they are working up enough courage to overcome the shame they feel and their fear that the shame will increase if they tell you.
Mark is a devoted Christ follower. He is husband to Ellen, father to a son and three daughters, and grandfather to 9. He holds a Masters of Education in school leadership and has been a teacher and school principal. He has served on Church staffs working with parents and children. His ministry spans over 30 years.
Latest posts by Mark Strohm (see all)