by Guest, Ashley Burtram
Tonight I found myself at a gas station at 10:30 pm. With my awake 3-year-old. With my sweating 10-month-old in a full-body onesie, in 85 degree weather. Wearing "booty shorts." In my leftover hair & makeup from a day at the pool.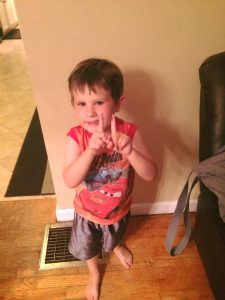 God taught me a lesson about judging. Not because I was judging someone, but because I would've judged me had I seen me tonight without knowing my story. I would have thought "why doesn't that mother have her kids in bed? And not even dressed for the weather? And look at HER! I mean, it's a gas station but you're still in public!" 
Next time I will try to remember tonight and think, "Maybe that mom just had a crazy night. Maybe she was dressed for bed, her baby was in the crib asleep and her husband called her, broken down on the side of the road with their 3-year-old. Maybe she didn't think about what she looked like as she grabbed the keys and the sleeping baby and went to jump their battery. Maybe she noticed the car was on "E" after using up gas trying to get the other car to start so she needs to fill-up immediately, even though it's really late. Maybe her husband is still waiting for the tow truck." 
Yep. That's the real story. Couldn't have made it up. But it's so easy to make up negative stories about others! Asking God for a new perspective and a fresh start tomorrow!