Our Actions Must Always Be In Love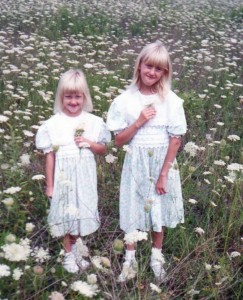 This picture sits on my desk at work. Several years ago I took my two youngest daughters, Julie and Abby, to the forest preserve in their Sunday dresses to photograph them with the beautiful Queen Anne's Lace. Whenever my daughters see this picture, they always moan. You see, they hated walking into the forest preserve with the scratchy, itchy plant growth. I knew it would look good. It makes a beautiful picture, but to them it was a horrible experience.
I wonder if our children feel the same way about our child rearing. For some of us, things look good. However, what kind of experience is it for our children? They may be polite, but are they in fear of not being polite? They may have the right hair cut and lack the trendy, even rebellious styles, but at what cost?
Children are a wonderful gift from the Lord (Psalm 127:3). We genuinely treasure them as coming from the Lord when we sacrifice our dreams, motives and desires for them and ask God to give us His dreams, motives and desires for our children. True love will help us through difficult times. Love will give us patience, help us not react inappropriately, and will curb our tempers.
The word, love, is defined by Richards in his Expository Dictionary, as "the grandest theme of Scripture. It moved God to reach out to the lost; and it enables the lost to look up in response, as well as to reach out to others." When it comes to any discipleship or training program, our motivation must to "look up in respnse" and love your children through the love Jesus Christ has given us. Remember . . .always in love!