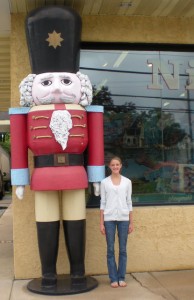 My daughter Julie is home from college so this week we have been going for walks. I hope she has enjoyed our conversations as much as I have! First, we talked about some necessary subjects and made sure we exchanged information that was important. Then, when all the business was taken care of, we had fun conversing about anything that came to mind. We even stopped at a local landmark here in our town – a huge toy and model train store. Walking through the isles of this store was like stepping back in time. There were not many electronics, just loads of fun, simple toys.
Life has really changed. I love most of the changes. The microwave is wonderful and convenient. I love my smartphone. I love my computer and the ability to facebook and skype with my loved ones. I love the large selection of cable choices. I can watch tennis or some great History Channel program even though most of America does not want to watch the same programs. I love how simple it is to bank online. I love that I can purchase something on Amazon when no store in town will sell it due to low volume. I love my GPS that gets me all kinds of places and helps me find a gas station when I am in need. I really do love technology!
But there is one thing I don't love about technology. While each "advancement" is great on its own, they have all come together to produce a very busy, noisy, cluttered life. Instead of being "forced" to miss the latest episode of the TV program you are following and learning to figure out what happened while watching the next episode, now you can watch the episode "on demand" or on Hulu. Instead of heading home because it is getting late and you are not that familiar with the town you are driving in, you can keep going and rely on the GPS. Instead of enjoying solitude, you can call a friend and talk for 20 minutes, even when you are not at home. Instead of passing up a last minute opportunity because you would not have time to cook a meal before the group was leaving, your trusty microwave can get you out the door.
For most individuals back before all the great technology showed up to help us, there were many unplanned, unstructured times to slow down and process our thoughts. I guess one could argue that we had too much time and that got us into trouble. But there is no doubting that the children of today have far less peaceful, slow, unstructured time.
I believe this lack of "down" time is a detriment for children today. Just like my parents had to make plans to keep me "busy" way back in the 1960's, getting me to join a boy's club, a baseball team and take swim lessons, I think parents today actually have to make plans to provide "quiet" times for their children. They need to provide times without activities and especially without the constant intrusion of technology.
Then, maybe you and your child will be able to talk about things like Julie and I got to. You can get through the catching up, discuss everything that you need to, and hopefully arrive at fun, delightful small talk! Who knows, maybe you will even be able to visit a local destination just for the fun of it!