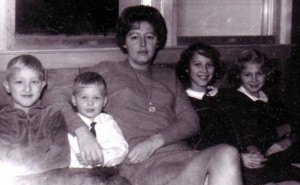 Editor's Note – Ellen wrote this in October of 2005. Both Ellen and I re-read this and we agree that it is even more true today than when she wrote it.
BTW – the picture to the left is of Mark Strohm (far left) when he was a child, with his siblings and mother.

When my children were very small, more experienced mothers I knew would tell me that the early years pass quickly and that I would miss them when they're gone. How could this be true? We had 4 children in 7 years. Every day seemed like a week. They were so beautiful but so exhausting. I could hardly imagine the day when they'd all be in school.
Feelings of exhaustion can fog your perspective and make you wish your days away. There were times that I couldn't wait for my husband to come home, for them to get in bed, for Friday, for vacation, for school to start, for summer vacation. But there were golden days as well, when a little blessing like my child's prayer would make the day shine.
Looking back, those ladies were right, the years have flown by. My children are almost adults now. The memories of those days of being stretched to my absolute physical and emotional limits have faded but the joy of the little blessings has not. Those memories are precious jewels that were formed during the times of intense pressure and fatigue, during the early years. Those times still glow in my heart, a treasure stored.
Be assured, you'll have golden days too, precious treasures if you keep your perspective.
Ellen