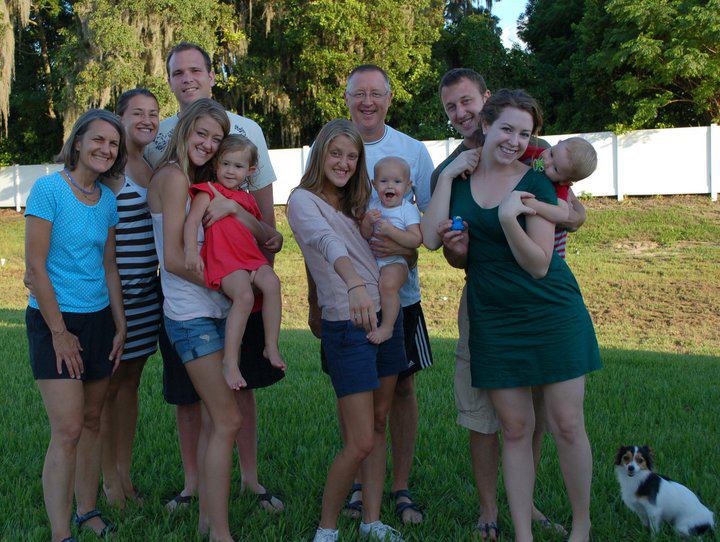 Dear Family and Friends,
The Strohm family would like to wish you a very Merry Christmas and Happy New Year!
This has been an eventful year for us! From the bottom of our hearts we would like to thank the many, many friends and family who prayed, sent notes, made calls both during Mark's Mom's battle with cancer and during Mark's sickness. Our hearts were overwhelmed with family and friends who were lifting us up and praying. It has humbled us and has given us a deep appreciation for the community of Christian believers.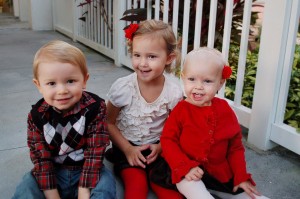 The grandchildren – Gavin, Elena, Olivia

The year began with Mark closing his book recycling business. Our hope was to have Mark phase back into full time ministry, but the steps God had ordered were a bit different than what was anticipated.  Mark worked on developing parenting materials, coached high school tennis, taught a class at Lancaster Bible College and worked with our church to help restore their pre-kindergarten and daycare.  As the year progressed, Mark found himself frequently sick and unable to get well.  After being sick for more than 4 months, Mark ended up in the Hospital for 6 days. Dozens of tests, scans and two hospitals later, Mark was diagnosed with a Pituitary Adenoma.  The non-cancerous tumor is being treated with medications. While his recovery has been slow, the frequent sickness cycle has ceased and Mark is resuming activities.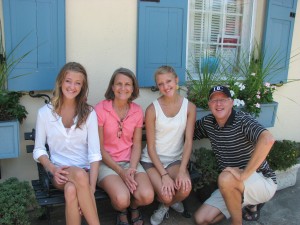 Ellen has continued her work at Global Scripture Impact, a division of American Bible Society.  Ellen was promoted to a more senior management position and is now "Client Development and Operations Manager."  This summer Ellen's sister, Stephanie McDonald, along with her husband Dwayne and their three children visited with us.  At the end of the summer, Ellen lost her grandmother, Marty Southard, and not too long after, Marty's sister, Alice passed.  While it was a sad time, it was nice to see her parents, Uncle Art & Aunt Susie and have time together with her sisters.
Julie finished her college coursework and has officially earned her bachelor's degree this December! She recently finished her internship at a small church in New Holland, PA, and has now begun actively seeking employment.  In the meantime, she continues to work for a family as a part-time Nanny.  Julie began dating Jonathan Taylor, a Valley Forge Christian College grad, in February.  Jonathan is a youth pastor in Middletown, DE.
Abigail transferred from Delaware County Community College and now attends Valley Forge Christian College as a business major.  She enjoyed staying on campus this past semester, joining 4 other family members there. Abigail works with our church's youth group and works as a server at a local restaurant.
This summer we were able to visit family. First stop was Charleston. Mark's parents were praising God for Mark's Mom being cancer free for over 6 months and continues to be a real miracle.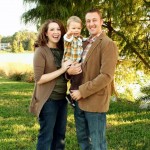 Andy, Kelly and Gavin
After visiting Mark's parents, we visited Lakeland, Florida to see Andy, his wife, Kelly and son Gavin. Andy continues to do well at Geico where he is Supervisor of a sales team. Kelly has done a beautiful job decorating their new home and is a wonderful mother to little almost 2 year old Gavin. Later in the year we were pleased to learn that Andy and Kelly are expecting their second child in April.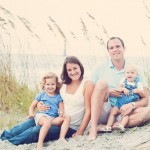 Andrew, Alli, Elena and Olivia
We then visited Alli and her husband Andrew Hyer and two daughters, Elena and Olivia in Casselberry, FL.  Andrew's online media business continues to grow. Andrew's business grew out of his two car garage and he now rents a small warehouse.  Alli enjoys investing in her three year old Elena and one year old Olivia, who are growing and changing almost daily. Alli's craft blog, AlliCrafts.blogspot.com hit one million page views and is a "fun" focus for her crocheting.
Our Strohm family prays for each of you, that the peace only the Christ of Christmas can give will fill you and your home at this Christmas time…
Love,
Mark, Ellen, Julie and Abby