Alli,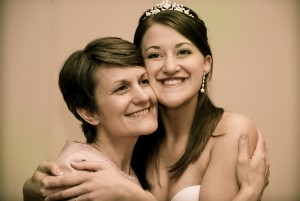 How can I forget the day you were born? While your mom and I had concern for your health, the joy and excitement over God temporarily entrusting a precious life to us, a beautiful girl, was overwhelming.
As a baby your very life helped build our faith. As you grew your will and determination, though it seemed was set against us, taught us persistence and patience. I will never forget "can't like a dad!" As a toddler your hope and optimism and consistent smile was always a bright spot in my day. I can still picture your charm winning over those in the vestibule of First Assembly in Brookfield and how you would get kisses and hugs and one day an offering. The Saturday you and Andy got up before mom and me and used markers to color yourselves like the clowns in the book Dumbo is etched in my mind. Mom and I still joke of spending hours trying to get the grease out when you decided to wash your hair with Desitin!
As you entered school your love for learning made you a great student. It was a pleasure to watch you grow in confidence and in wisdom. All those blue ribbons in speech meet after speech meet. I smile at the thought of your part in the fifth grade musical – the part you played so naturally – an intelligent mayors wife who had to run the town!
Even your middle school years did not slow you down. Remember those grammar songs? When you declared your confusion over your female classmates worrying so much over what those "dumb boys" thought, remember mom declaring "boys have cooties, stay away from them!" In high school you blossomed, recognizing your strength as a learner and winning all those academic accolades. You realized that being "smart" wasn't a burden but a blessing, a blessing that catapulted you to college with a great scholarship. While you easily held your own in college you really began to blossom socially. I remember my amazement that you had taken up swing dancing and loved it!
Alli, you have been a joy to us!
Now, our temporary custody comes to an end and a new relationship begins. We hope you and Andrew will continue to allow us to be trusted advisors.
May God pour out His blessings on you and Andrew, enable you to create a wonderful home and make you a Christ centered family!
Love,
Dad