"If you have two friends in your lifetime, you're lucky. If you have one good friend, you're more than lucky."
—Bryon Douglas
"Don't pity the girl with one true friend. Envy her. Pity the girl with just a thousand acquaintances."
—Katie Obenchain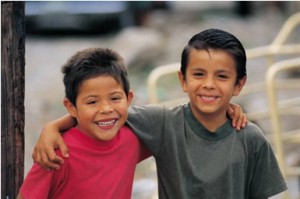 I have had discussions with young parents who believe they should not send their children to Christian school, Christian camps or activities believing that being friendly with as many of the "lost" as possible will maximize their children's effectiveness as witnesses. However, without Christian friends, children have a greater likelihood of not following Christ as an adult. You might then incorrectly conclude that children should only have Christian friends. Instead, parents should have a better understanding of the types of friends and the influences those relationships have on their children.
In Social networking the word "friend" is now used in a boastful way, as in "I have 985 friends." Unfortunately, if those 985 "friends" were lined up, I doubt that the boastful child could actually name them all!  I believe there are 4 types of friends that we make over a lifetime.  You can help your child develop an understanding of the different types and how they can be established which will be vital to their healthy development as a young Christian adult. As a parent, you have the opportunity to coach your child to stand for Christian principles and values, as well as assist them to work through many of today's anti-Biblical views.
First, we have acquaintances, those we meet here and there or are friends of friends. An acquaintance can be the person you see at the bus stop every day, someone you meet at a ball game or connect with via a social networking site.  You have probably at one point or another been in the same place and so you "know of" them. It is not only nearly impossible, but inappropriate, for us to limit our child's acquaintances. We should teach our children to be polite and courteous to every acquaintance. Their job is not to "change" or even attempt to have a major influence on this type of friend, but they will have some type of an effect, so encourage them to be shining the love of Jesus. One never knows when there will be an opportunity to witness to them.
Second, there are casual friends. While anyone and everyone can be an acquaintance, casual friendships are typically formed around a common interest or a shared activity. Those on the same soccer team, who like the same TV program or who ride to school on the same bus can become casual friends. You, as parents, have casual friends, those who send their children to the same school or who play tennis at the same court, or love to garden like you do.
With casual friends, you do have an influence and are able to ask more specific questions as you learn about them and have the opportunity to invest into their lives. Your children will both influence and be influenced by casual friends. Some casual friends are a more negative influence and time with them should be limited and monitored. However, most casual friends give your child an opportunity to learn appropriate interpersonal behavior. As a parent, proactively advise your children as they develop friendships to be aware of the influences their casual friends have on their attitudes and actions.
The next level of friendship is the close friend. Typically with a close friend you not only have similar interests or a shared activity, but you also have similar goals, a strong agreement in philosophy, or correlating points of view. These friends are generally "picked out" from among your casual friends. For children especially, close friends will have a much greater influence than casual friends. Parents will want to keep an eye on the close friends that their children choose. These friends should positively influence your child, if not, help your child understand the effect this close friend is having and recommend (and reinforce) they spend less time together. In general, while not always the case, close friends chosen from your Church or Christian School community will share more values in common.
Finally there are intimate friends. These friends are few and far between. This type of friendship involves demonstrating the love of Christ through commitment and sacrifice despite circumstances, disappointments, obstacles or offenses.  Adults may develop intimate friends but children rarely do. In general, children are still growing in their ability to demonstrate Christ-like character and are often self-focused which limits their ability to develop intimate friendships.
We do need to have acquaintances and casual friends who do not share our Christian values and we should be intentional to be witnesses to these friends. Yet our close and intimate friends should share similar goals and our belief in Christ, so these friends can help fulfill Hebrews 10:24 and we can motivate one another to acts of love and good works.
Because your children are still under your guidance, parents will need to monitor all friendships. Neglecting to monitor a child's close relationships could lead to trouble, especially with close friends who are not having a good influence or do not share our belief in Christ.
Having friends is far more than clicking on an "accept" button on a social network. Some friendships will bring your child heartache and some will bring them great joy and wonderful memories. Stay on top of your children's relationships and help them discern different levels of friendships so they can make wise choices on who will influence them the most.
Mark is a devoted Christ follower. He is husband to Ellen, father to a son and three daughters, and grandfather to 9. He holds a Masters of Education in school leadership and has been a teacher and school principal. He has served on Church staffs working with parents and children. His ministry spans over 30 years.
Latest posts by Mark Strohm (see all)